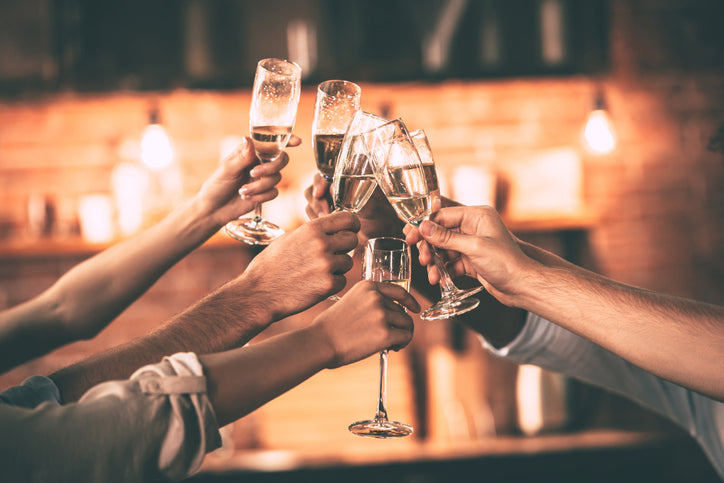 There's no need to stick to the same old champagne for your celebrations. From bourbon and scotch to cognac and amaretto, there's liquor for every occasion to suit all taste buds.
Whether you're looking for something new to add to your repertoire or want to learn more about different kinds of spirits, read on for the ultimate guide to liquors for every celebration. 
How to choose the right liquor for your celebration
When choosing the right liquor for your celebration, there are a few things to remember.
First, consider what type of event you're planning and the budget you have set aside for purchasing drinks. Are you hosting a party where fun and creative cocktails will be served? If so, it may be best to invest in a few bottles of quality liquor. If you're having a laid-back gathering, then beer and wine may be more suitable options.
Next, consider the tastes of your guests. If you're having a mixed party, it can be helpful to have a variety of liquors on hand; this way, everyone will be able to find something they like. Having a selection of beer and wine will also work in this case, as well as having non-alcoholic drinks available for those who don't drink alcohol.
Finally, it's important to remember that while liquor can be an enjoyable addition to any celebration, safety should always come first. Make sure to have plenty of food and non-alcoholic drinks on hand to ensure that guests don't overindulge. 
The best liquors for every type of celebration
1. Weddings and Anniversaries
For a wedding or anniversary, you want to ensure that your guests have the very best in liquors. There are a variety of spirits available to choose from, so it's important to consider the personalities and tastes of the people attending your event.
When it comes to weddings and anniversaries, vodka is one of the most popular liquors. It is a light, clear spirit that can be served neat or mixed into cocktails. When selecting a vodka for your event, you should consider quality over price - premium vodkas are often smoother and more flavourful than lower-priced alternatives.
Champagne is a sparkling wine made in the region of France with the same name, and its light, bubbly taste makes it an ideal accompaniment to any celebration. When selecting champagne for your event, try different labels to find one that complements your menu or matches specific themes in your décor.
Whiskey is also a popular choice for special occasions, as it has a bold and distinctive taste that adds depth to any gathering. Selecting the right whiskey for your event can be tricky, as there are many styles of whiskey with different levels of smokiness and sweetness - from light-bodied whiskeys such as Irish whiskey to full-bodied bourbons and single malts. 
2. Housewarmings and Graduation Parties
Housewarmings and Graduation Parties are special occasions that often call for a celebratory toast. When it comes to the type of liquor served at these events, there are many options available and choosing the right one is key to creating an enjoyable atmosphere.
For Housewarming parties, light and fruity liqueurs like peach schnapps, amaretto, or raspberry vodka are great choices. These flavours are refreshing and go well with many types of drinks.
For Graduation Parties, something a bit more traditional is usually in order. Popular choices for these events include whiskey, gin, and vodka. These liquors can be served neat, on the rocks, or in various cocktails. They offer a strong taste that is sure to liven up any toast.
3. Birthdays
Birthdays are a great opportunity to celebrate and share special moments with family and friends. To make the day even more memorable, why not serve up some of the best liquor?
Whether you're into champagne, whiskey, vodka or tequila, there's something for everyone to enjoy.
For those who prefer bubbly, champagne is always a classic option. Choose a bottle of Dom Pérignon or Moët & Chandon to kick off the celebrations in style. For whiskey drinkers, try serving up some smooth and smoky blends such as Johnnie Walker Black Label or Maker's Mark. If vodka is more your thing, go for Grey Goose or Belvedere for a truly luxurious sip. And don't forget about tequila - choose a bottle of Patron or Jose Cuervo for a must-have margarita.
4. Baby Showers
When planning a Baby Shower, you may be wondering what kind of liquor would be best for the special occasion. While many people turn towards traditional champagne or sparkling wine, other options can help make your event even more special.
Keep in mind that when it comes to baby showers, the guest of honour will not be drinking an alcoholic beverage. To cater for everyone, it might be a good time to enjoy some non-alcoholic beverages or try your hand at creating some fun non-alcoholic cocktails. 
5. Holidays
The holiday season is the time to indulge in a celebration, and what better way to celebrate than with some of the best liquors available?
Whiskey is a classic spirit perfect for the holiday season. Whether you prefer a darker, smokier flavour or something more light and smooth, there's sure to be something out there that will suit your taste.
Champagne is a great addition to any holiday party. It's light, bubbly and usually the perfect way to kick off a celebration. A well-rated option to consider is the Veuve Clicquot Yellow Label, which offers a full and round flavour with hints of brioche and honey. 
Choosing the right beverage for every celebration
Liquor is a great way to add fun and excitement to any celebration. With so many different types of liquor available, it's easy to find one that will fit your needs. Be sure to experiment with different types of liquor to find the perfect one for your next event. Who knows? Maybe you'll discover a new favourite beverage to enjoy year after year!