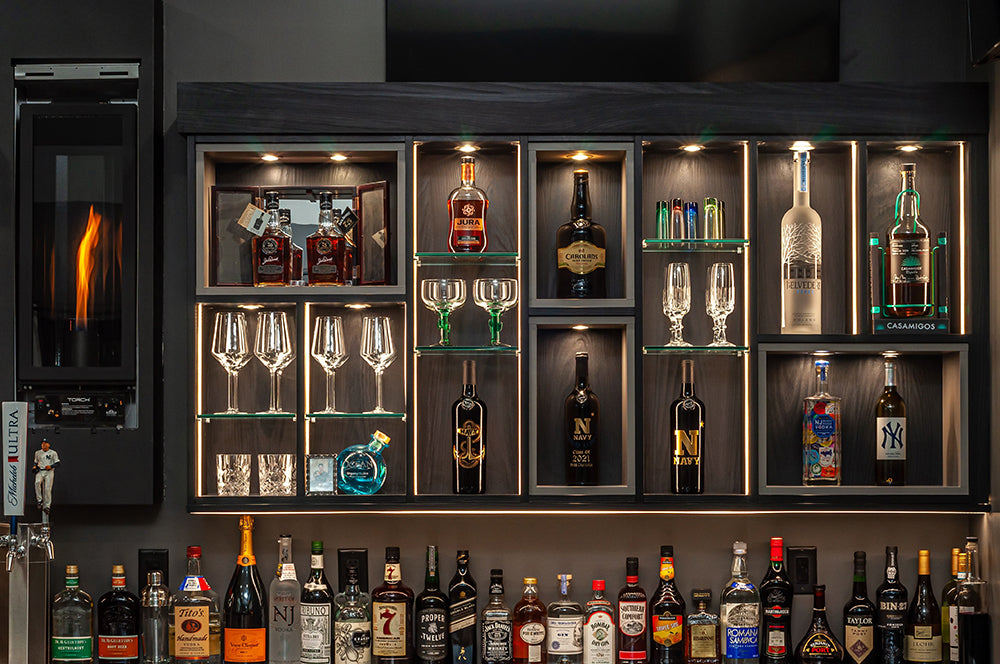 Whether you're a hospo veteran that wants to pay homage to your bartending days, or you learned some basic cocktail skills in lockdown and are ready to take it up a notch - making a home bar is never a bad idea! While picking a spot in the basement or the garden is the first port of call, so is stocking your bar! From utensils to garnishes - here's how to start your home bar with basic essentials and a limited supply of alcohol.
Utensils
You can't make great drinks without the right tools. A good place to start when setting up your home bar is to make a list of all the equipment you'll need. To add a professional touch to your bartending skills, it's good practice to have a specific set of utensils that always remain behind your bar. This way nothing goes missing, and you won't have to rummage through the cutlery drawer in your kitchen while your guests wait for you to slice their lemon! Here are some of the things you might want to include:
Sharp knives for slicing garnishes 

Chopping board

Mesh strainer

Stirrer

Cocktail shaker

Assorted glassware

Dishcloth

Shot measures 
Spirits selection
While often room is of the essence in a small home bar, it's crucial you have the basic spirits so that you can be agile and creative with your drinks - and take guest requests! Stock at least one of each of the following: brandy, vodka, whisky, gin, rum and tequila.
These are popular tipples not only on their own but also with a mixer or in a cocktail shaker. These spirits don't need to break the bank, stick to plain flavours and budget-friendly options that you can blend with delicious mixers. If you're stuck for space, purchasing an optics wall stand is a great way to mount drinks to the wall, and gives your home bar a professional look and feel too!
Liqueurs
Not to be confused with liquor, lic-uuures are the backbone to an espresso martini, the finishing touch to a pornstar, the 'nuts' and bolts of an amaretto sour, see where we're going with this? Life, as we know it, just wouldn't be the same without luscious liqueurs creating magic in our glasses - and that's why it's essential to have some basic liqueurs in your home bar. To start off, opt for a few different flavours so you've got some variety to work with. Amaretto, vermouth, coffee liqueur, Chambord and Frangelico are great basics that go a long way in making your drinks extra special.
Mixers
Over the last few years, more and more importance has been placed on mixers. Perhaps it has something to do with gin being classed as 'sexy' and the plethora of flavoured tonics that's followed this resurgence. We can't quite put our finger on it, but what we do know is that stocking a range of quality mixers, whether in a real bar or a home bar, is a must!
Mixers soften the sharp taste of some alcoholic drinks, add flavour to cocktails and can also make a colourful effect when blended with other ingredients. Some go-to mixers for your home bar should be soda water, Coca Cola, Sprite for mixed drinks and grenadine, bitters, simple syrup and sour mix for signature cocktails!
Juices
While you could also class these as mixers, we thought they deserved their own section! Juices are the unsung hero behind every bar - and a particularly good drink to have on hand for people that don't drink alcohol. How impressive and inclusive will your bar seem when you can offer sober guests a delicious mocktail instead of a soft drink? If you really want to step it up a notch, you can freshly squeeze your own juice, but there is a huge range of ready to pour juice that will be just as effective. Include orange, grapefruit, cranberry and pineapple juices behind your bar so you're ready to hit that fruit factor when needed!
Garnishes
While this may seem like an obvious one, it can be the things we assume we have that often get forgotten about. Similar to your utensils, it's a good idea to keep a stash of garnishes specifically for your bar and not in the main kitchen. While each drink call for different accompaniments, no home bar is complete without at least having lemons, limes, oranges, cherries, olives and mint.
While technically ice isn't a garnish, we've forgotten to include it in our earlier categories, and again, while it may seem obvious - forgetting about ice is a major home bar faux pas. If you're not 'cool' (pun intended) to have an ice machine, make sure you have adequate sized ice trays that are regularly refilled.
So what are you waiting for? Let's get that home bar up and running and show your guests that you're an alcohol aficionado! You'll find all the basic essentials for your home bar at sessions liquor stores, or check them out online at sessionsliquor.com.au