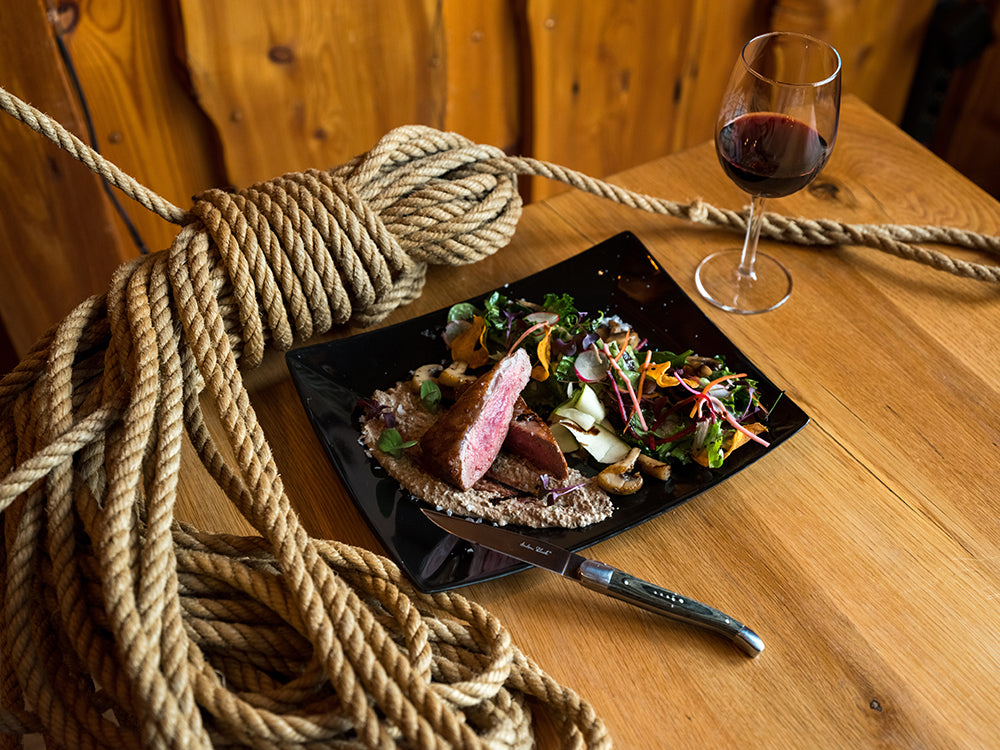 There's nothing better than that first bite of perfectly cooked steak. Wash it down with a suitably paired sip of wine and you've got yourself a match made in heaven! Most people will go for a glass of rouge with their meat, but there's a little more to it than that. We're going steak by steak and sip by sip to give you the best wine pairings for steak nights! 
Merlot and Fillet Mignon
We'll start off this list on the lighter side of things. With Merlot deemed a 'medium-bodied' wine, it's the perfect choice for fillet mignon and other grilled steaks. It's the perfect choice if you're just wanting your steak and wine fix and aren't too concerned about the intricate details that cooking expensive cuts of meat can sometimes require. Smooth, with medium acidity, merlot's black fruit flavour profile beautifully enhances the juicy and smoky taste of red meat.  As a matter of fact, merlot and fillet mignon make such a good pairing, there's even a special merlot sauce recipe to accompany the meat! 
Cabernet Sauvignon and Prime Rib
We're getting a bit bolder now, with the full-bodied, dry, deep-red wine that is the delectable 'Cab Sav'. A grape that's wildly popular and grown across the globe, its flavour can differ depending on location and climate. Some variations are heavily fruity, while others lean towards the smoky side. Overall, these complex flavours tend to have notes of dark red fruits with subtle hints of spice and smoke poking through.
If you're a red wine lover, a cab sav will go well with any steak, but a strong rouge like this meets its match with prime rib. When this fattier cut of meat is cooked medium-rare, the richness of this wine doesn't overshadow the flavours of the meat.
Malbec and T-Bone
If you're thinking of firing up the barbie for a real earthy, smoky steak - Malbec is the liquid you'll want in your glass. Typically more affordable than cab sav, it holds its own when it comes to flavour and depth. Deep red fruit is front and centre, often followed by notes of coffee, cocoa and even tobacco!
When thinking of accompaniments for your meat, try to incorporate spices like cumin or paprika, and leafy greens with black pepper and garlic for a real adventure for the senses! This pour flourishes when decanted - so while you're prepping your outdoor table, open her up for about 30 mins before serving!
Bordeaux and Porterhouse
A luscious red with complex flavours, Bordeaux is officially one of the world's most popular wines. Derived from merlot and cabernet sauvignon grapes, this wine exudes opulence and class. A fruit-first pour, it's medium to full-bodied with notes of cedar, chocolate and licorice riding the wave for a rich, earthy mouthfeel.
For a decadent red, a premium cut is required, and while Bordeaux works well with many steaks, a porterhouse is an optimum choice for this wine. A high quality, salty and fatty cut, porterhouse pairs beautifully with the fruit flavours of Bordeaux, (especially one that is decanted for up to 60 minutes!)
Shiraz and Rib-Eye
Shiraz is one of Australia's most planted grape varieties, with this aromatic wine being adored the world over. This popular dry red is high in tannins and has a distinct, bold flavour. Featuring a stunning deep purple hue and medium-high acidity, fruity meets savoury in this robust wine.
Shiraz is a wine that's sure of itself and pairing it with a marbled steak like a rib-eye or fillet mignon will be a showstopper for diners. If you're opting for a more casual affair, shiraz's rich mouthfeel goes stunningly with the juicy flavours of a smoky slow-cooked brisket.
What about whites?
Ok, so you're hosting steak night and not everyone drinks red - what do you do? Call us biased, but we think anyone that likes wine can be converted to red (and they will never look back) - however, some drinkers may look forward to a glass of white with their dinner, regardless of what's being served.
While it's a general rule of thumb that red wine goes with red meat, a white wine pairing can be done… carefully. You need to choose a white wine that can stand up to the boldness of steak, and with that in mind, choose a smoky or nutty chardonnay or a highly acidic Sauvignon Blanc.
Ready to fire up the grill and host steak night?  You'll find all the wine you need at sessions liquor stores or check them out online at sessionsliquor.com.au