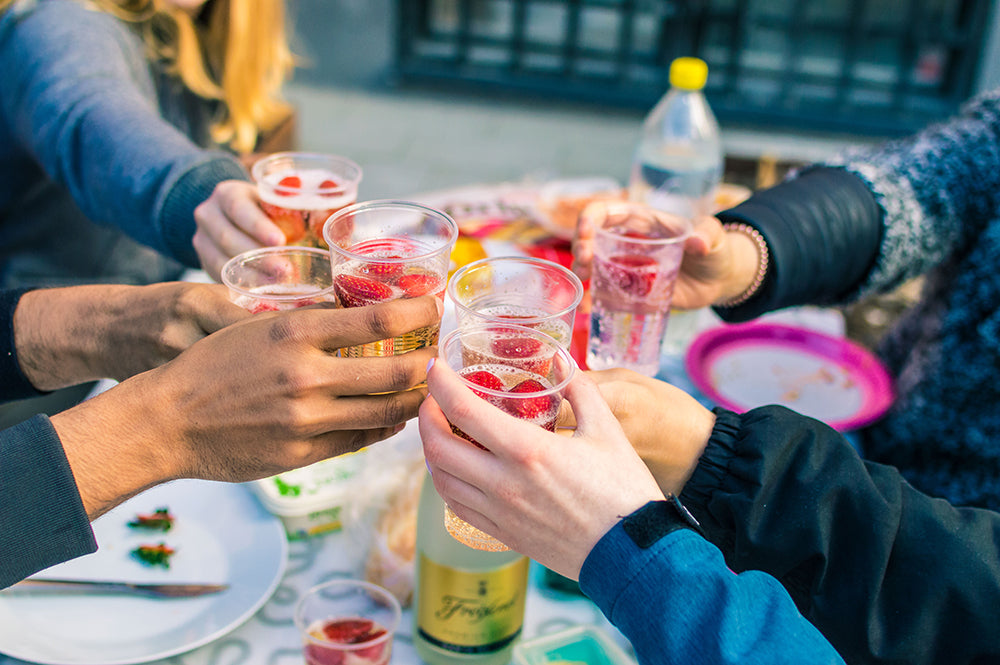 It's finally spring! The weather is warming up, the flowers are blooming, and the birds are singing. This is the perfect time of year to get outside and enjoy the fresh air. And what better way to celebrate the season than with a refreshing drink? Here are some of the best drinks to enjoy this spring. 
Sloe Gin Fizz
Spring is the perfect opportunity to take things 'sloe'. The sloe gin fizz provides the perfect balance of vibrant zestiness and darker, richer berry fruits. Sloe gin is typically sweeter than Juniper gin, making it a great choice for those that love a sweet liquid treat.
Ingredients
50ml sloe gin

25ml lemon juice

2 tsp sugar syrup

Ice

Sparkling water

Lemon slice

Fresh or frozen blackberry
Method
Chill a tall glass, ideally one that's similar to a 'Hurricane' glass. 

Pour the sloe gin, lemon juice and sugar syrup into a chilled cocktail shaker and fill up with ice cubes. 

Shake, shake, shake for 10-15 seconds until the outside of the shaker feels cold to touch. 

Strain the mixture into the tall glass (fill this with more ice too). 

Top it off with sparkling water and stir gently. 

Garnish with a lemon slice and a blackberry!
Cinnamon Maple Whiskey Sour
Cinnamon and maple - now there are two words that definitely come to mind when we think of spring. Not only for their golden brown hues but also for their signature taste. Spice flirts with sweet for this delicious spin on the classic, fluffy whiskey sour. This is always a sweet yet refreshing favourite in the summer months, so swapping sugar syrup for maple and adding cinnamon makes this the perfect spring treat.
Ingredients
60ml of your chosen bourbon or rye whiskey 

20 ml of freshly squeezed lemon juice 

15 ml egg white

15 ml of maple syrup

3 drops of Angostura bitters to serve 

Pinch of ground cinnamon powder. 

Orange slice to garnish
Method
Chill cocktail glasses, ideally a rocks glass. 

Fill a cocktail shaker two-thirds full with ice. Pour in your whiskey, egg white, lemon juice, cinnamon and maple syrup and shake vigorously for 10-15 seconds. 

Pour the fluffy, cold whiskey sour mixture into the glass and add the drops of Angostura bitters. Garnish with an orange slice, sip up and enjoy!
Mulled Cider
Christmas is the time of year that calls for mulled wine, but spring is the season for delicious, hot apple cider! Turn the 'cider in a beer garden on a hot day' experience into a 'hot cider curled up on the couch in my pjs' situation instead with this juicy, delicious mulled cider recipe!
It's certainly got our interest piqued! We're breaking out the pots and pans for this traditional recipe, check out how to make it here:
Method
To avoid the liquid cracking a glass, make sure you have strong, glass mugs like a hot whiskey or an Irish Coffee glass. 

In a large saucepan, pour the cider, Calvados, apple juice and sugar and gently heat (here's where the 'mulled' part comes in). 

Add the orange zest and spices, get it to a bubbly state, and turn down and keep on a low heat for 20-30 mins.

Use a large spoon or ladle and scoop the hot liquid into glass mugs.
Ingredients
1½ litres of dry cider

7 tbsp Calvados

400ml apple juice

75g dark brown sugar

Zest of one orange, shavedinto strips

4 whole cloves

2 cinnamon sticks, broken in half

1 tbsp allspice berries
Salted Caramel Rum Hot Chocolate
Hot chocolate is a no brainer in the cooler months, a liquid hug that keeps us warm and content. Now a regular fixture in ice cream and popcorn, salted caramel is a flavour that continues to soar in popularity. So what happens if we mix hot chocolate, salted caramel and a little rum? Well let's be real, there can really only be a scrumptious outcome! Here's how we can mix two of our favourite vices (chocolate and booze) into a delicious spring tipple.
Ingredients
25ml dark rum of your choice 

2 tsp of 'dulce de leche' or thick caramel

150ml of whole milk

50g chopped milk chocolate of your choice 

Pinch of flaky sea salt
Method
Over a medium here, warm the milk in a saucepan until it begins to simmer. 

Remove the pan from the heat and add the chocolate. Stir slowly until it's all melted through. 

Take a deep breath and enjoy that sweet, chocolatey scent. 

Pop the pan back on the heat until it's warm, then add the rum mixture and a pinch of flaky sea salt. 

Pour into a mug and let your tastebuds die and go to chocolate heaven.
Want to get your drinks cabinet or home bar ready for spring? Explore the huge range at sessionsliquor.com.au or better yet visit a sessions liquor store in Melbourne and the staff will be happy to help you stock up on all things spring!